Who we are
Notts Pride is a registered charity and we are run entirely by volunteers. We organise the East Midlands' biggest and all-embracing free Pride event, which takes place on the last Saturday of July, and we are here to celebrate Nottinghamshire's vibrant LGBTQ+ community and ensure our voices are heard.
Visibility, Education and Celebration are the core values of Notts Pride and they will always be central to our work. We exist to advance equality and inclusivity in our city.
As part of a global Pride movement, we believe in celebrating LGBTQ+ people and challenging discrimination. On every level, we believe Nottinghamshire should be a place to be proud of – a city and county where everyone feels safe and is not afraid to be themselves.
We love to welcome individuals and partner with businesses, organisations and other charities who share that vision.
Hockley has a rich heritage when it comes to the gay rights movement in Nottinghamshire. 
Back in the early 90s, it was home to Mushroom Bookshop, which was the only place in the city to openly sell Gay Times magazine. On 15 January 1994, the store was attacked by a group of fascists who damaged equipment, wrecked the bookshelves and injured two people who were in there at the time. 30 people were later arrested by the police. 
Mushroom Bookshop had been a longtime supporter of the LGBTQ+ community and received many messages of support from as far as Canada and New Zealand. 
Following the attack, members of the community joined together with local politicians and Trade Unionists to hold a demonstration called Nottingham United Against Racism and Fascism. Here, speeches were delivered by numerous LGBTQ+ speakers and a march took place through the city. This was one of the first predominantly LGBTQ+ protests held in Nottingham, and it echoes the spirit of Pride marches of today.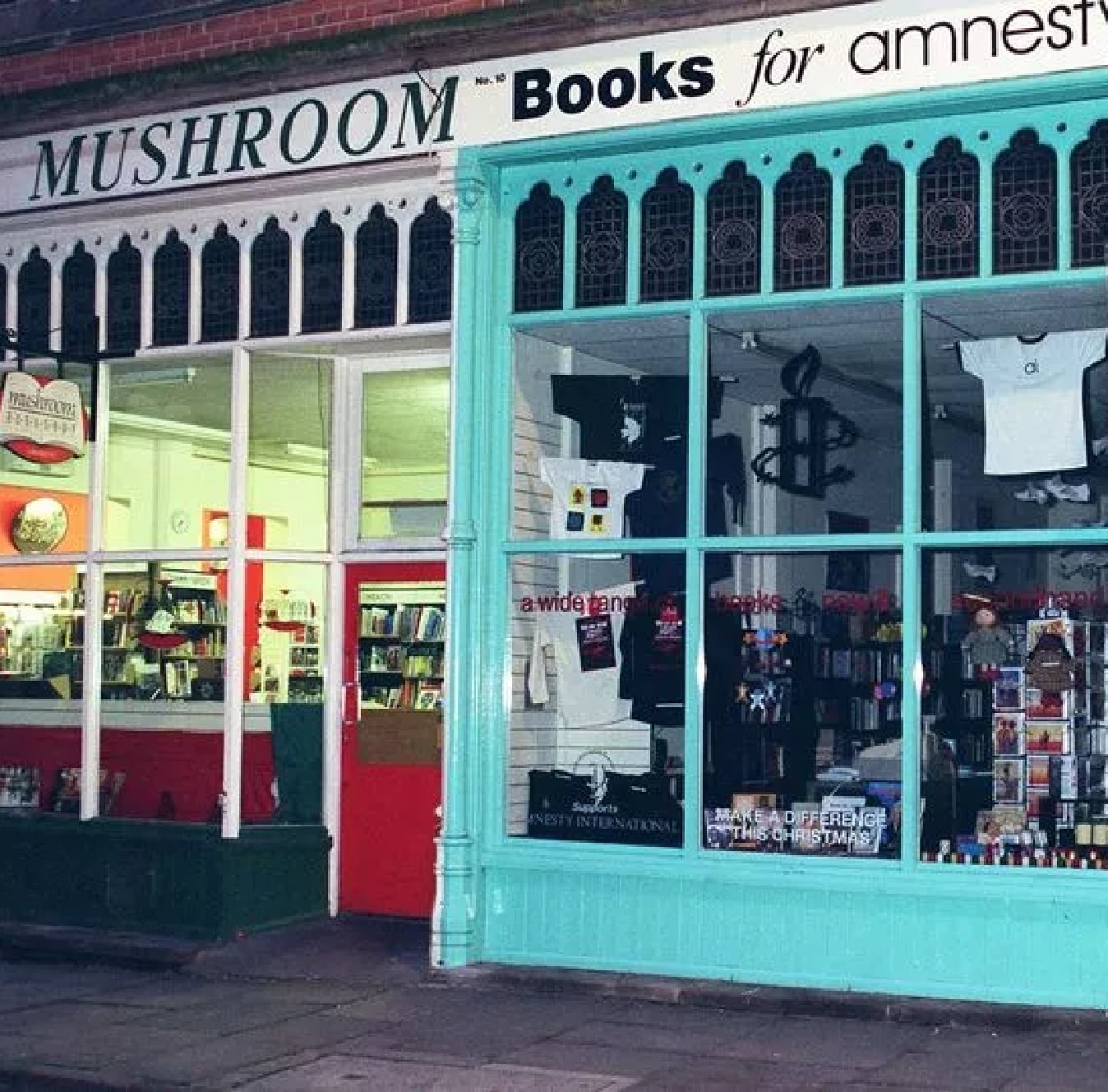 Throughout the 90s and beyond, Hockley has always been a focal point for Nottinghamshire's LGBTQ+ community. In 1991, the Health Shop opened on Broad Street to offer sexual health advice to gay men, while in 1994 Sir Ian McKellen visited Broadway Cinema to launch The GAI Project – a gay and bisexual men's HIV prevention initiative in Nottingham. Three years earlier, Broadway Cinema also hosted the launch of the Captain's Fund for people living with HIV and AIDS in Nottinghamshire, which was attended by over 400 people. 
In more recent years, Hockley continues to provide a safe space for LGBTQ+ people, with the Broadway Cinema regularly showing independent LGBTQ+ films and hosting community groups, as well as Broad Street itself becoming home to the first permanent Rainbow Road crossings in the region. 
Hockley has established itself as a beacon of celebration, acceptance, love and expression for Nottinghamshire's LGBTQ+ community and, for us, there is no better home for Notts Pride.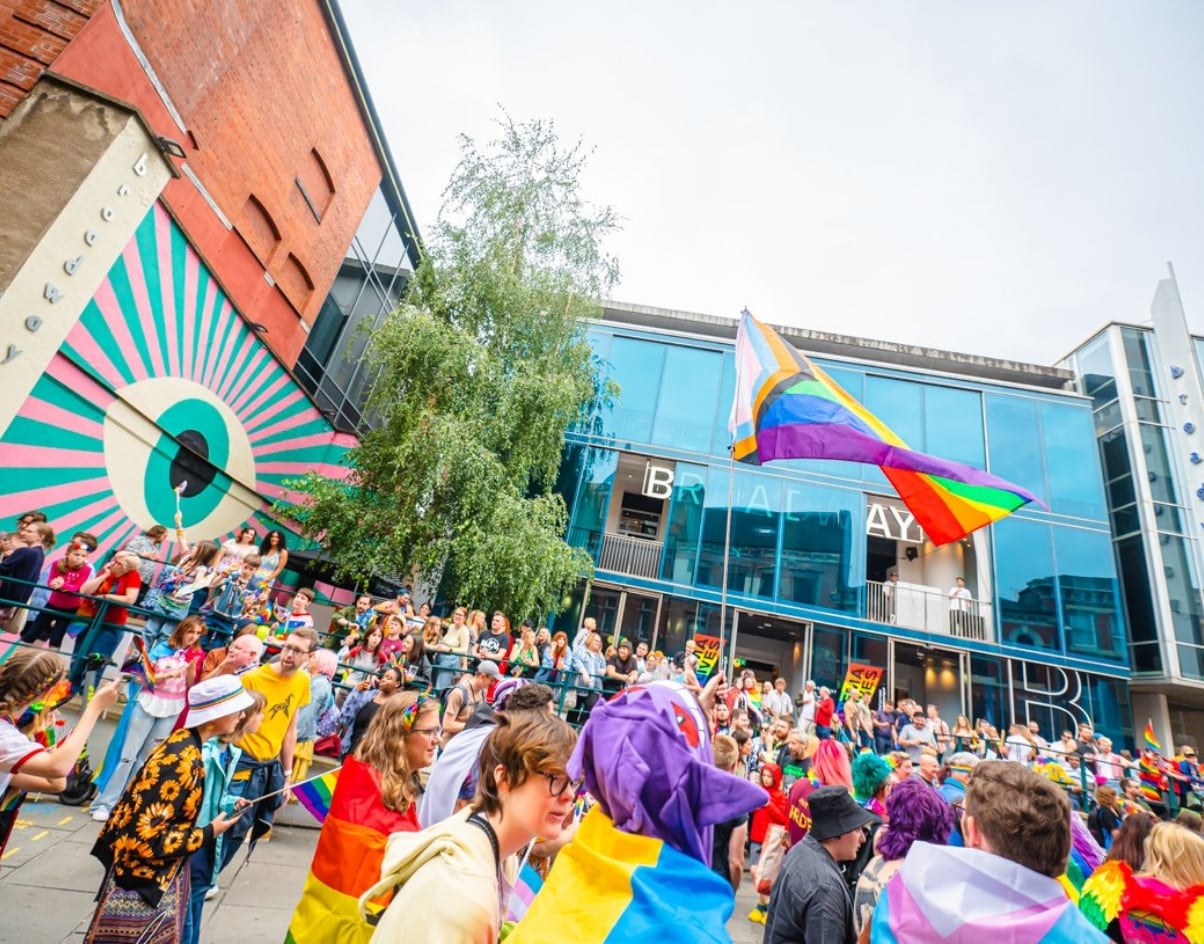 A history of Pride in Nottingham
The 70s
It was back in 1972 that the first ever Pride march happened in the UK, taking place in London on 1 July. Globally, the official Pride movement began two years earlier in Manhattan 1970, starting out as a protest that followed the Stonewall Inn riots of 1969. 
The 90s
Fast forward to the 90s and Nottinghamshire finally got its own Pride event in 1997, not that it was actually called Pride at first. Pink Lace took place on Broad Street, featuring stalls from various LGBTQ+ groups and organisations, with live bands playing on the steps of the Broadway Cinema. 
Late 90s
In 1998, Pink Lace transferred to Nottingham Castle, where it stayed until 1999. At that point, the organising committee of volunteers passed the baton to a new group of voluntary organisers known as 'Nottinghamshire Pride', which quickly became the name of the event from 2000, when it took place at Victoria Embankment. 
The Noughties
Over the following years, Nottinghamshire Pride had several different homes, including the Forest Recreation Ground and The Arboretum. 
The 2010s
In 2013, a new Pride committee was set up to help ensure continuity and organic growth. This is the same structure that is in place today, with our event now known as Notts Pride. One of the first decisions of the new committee was to return Notts Pride to where it all began – Hockley – and this is where it has remained ever since. 
Our charity is headed by a committee and they take the lead on everything that goes in to making Notts Pride one of the biggest events of the summer. All of our roles are voluntary but we all share the same passion for promoting and supporting Nottinghamshire's LGBTQ+ community.